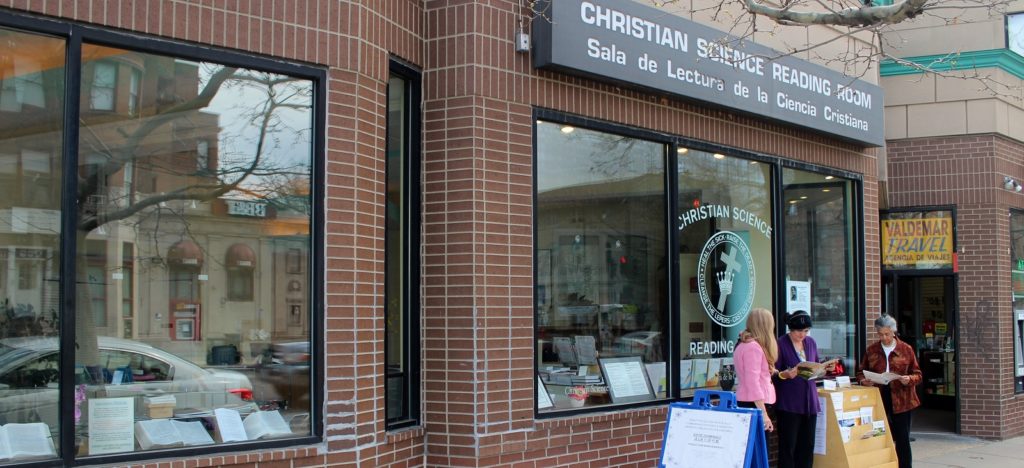 We are one of many Christian Science congregations in the Greater DC area which support the Jointly-maintained Christian Science Reading Room at 1782 Columbia Road NW (Adams Morgan). The hours are Tuesday through Friday, noon to 5 and Saturday 10 to 2.
Healing Headquarters in Adams-Morgan | El Centro de Curación en Adams-Morgan
Come and be healed — physical, mental, relationship, employment, financial, challenges healed. Here, you can:
Explore the Science behind Jesus' healings
Hear and read verified healings — happening today
Experience healing yourself — NOW
Venga a ser sanado – de todo tipo de dificultades, ya sean mentales, físicas, de relaciones, de empleo, financieras. Aquí usted puede:
Explorar la Ciencia demostrada a través de las curaciones de Jesús
Escuchar y leer testimonios de curaciones verificadas – sucediendo hoy en día
Experimentar curación usted mismo – AHORA
Christ Jesus said, "with God [Love] all things are possible. (Matthew 19:26)
Healings of all challenges "are possible" because the Science of Love is the "law of God, the law of good, interpreting and demonstrating the divine Principle and rule of universal harmony." (Mary Baker Eddy, Rudimental Divine Science, page 1.)
Cristo Jesús dijo: ¨para Dios [el Amor] todo es posible (Mateo 19:26)
Curaciones de todo tipo de dificultades son ¨posibles¨ porque la Ciencia del Amor es la ¨ley de dios, la ley del bien, interpretando y demostrando el Principio divino y la regla de la armonía universal.¨ (Mary Baker Eddy, Rudimientos de la Ciencia Divina, página 1)
Questions or comments? Call us at 202.332.9010 or e-mail at jmrr.dc@gmail.com.
¿Tiene preguntas o comentarios? Llámenos al 202.332.9010 o envíenos un correo electrónico a jmrr.dc@gmail.com.