We're open every weekday, except holidays!
So take a break, come in, relax, and read or listen to the newest articles and testimonies in the Christian Science magazines, or watch a video clip from The Christian Science Monitor, a 24/7 Pulitzer-prize-winning news source. Using our subscription to the website JSH-Online, you can research and print out articles and testimonies from the archives of the periodicals back to 1883.
You can also browse and obtain all the books offered by the Christian Science Publishing Society: Bibles, Bible reference books, all the writings of Mary Baker Eddy and biographies about her, children's books, poetry collections, and recordings.
The librarian is always happy to answer any questions you may have. Tell your friends!
The nearest Metro stations are Farragut North on the Red line and MacPherson Square and Farragut West on the Blue, Orange, and Silver lines.
We are open Monday through Friday 11 am to 5:30 pm, Wednesday 11 am to 7:30 pm, and Sunday from 11:30 am to noon.
Contact us at 202-807-1877
readingroom@firstchurchdc.org
Featured Products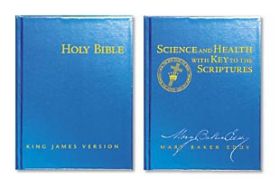 Mary Baker Eddy wrote Science and Health with Key to the Scriptures to give to the world the practical system of Christian healing she discovered in the Bible. Read Science and Health »
The Bible is central to the study and practice of Christian Science and its system of healing. Read the Bible »

The Christian Science Journal
 advances the practice of Christian Scientists by providing a record of healing, metaphysical insight, and progress in the Church community.

The Christian Science Sentinel
 contains articles, editorials, and firsthand accounts of healing show how Christian Science can bring healing to any situation.

The Christian Science Monitor
is a news source that confronts today's complex and changing world with insight, intelligence, and integrity. It comes both in a digital daily edition delivered by email and as a weekly print edition that can be purchased at the Reading Room, or you can
subscribe here
.