**NOTICE**
Our church's Reading Room is temporarily closed. To contact us, you may call 202-807-1877 to leave a message, or email us at readingroom@firstchurchdc.org. Voicemail and email messages are checked regularly and we respond to all inquiries. Meanwhile, we invite you to check out the online resources that we've added below.
Welcome Wednesdays Online
So, you're working at home. It's an hour till the Wednesday Testimony meeting starts. What to do? join the Reading Room fellowship hour, Welcome Wednesday Online!
When: Every Wednesday from 6:15pm -7:15pm
Where: Online Conference at bit.ly/firstchurchdcrr
Meeting ID/password: 9101691016 / Truth
Or call in by phone: (253) 215-8782
Praying about Contagion
"Contagion" – Mary Baker Eddy's brief but thought-provoking article that offers a healing approach when contending with contagion.. 
Christian Science Resources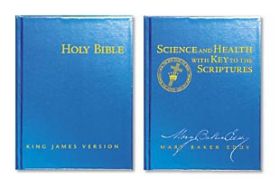 Mary Baker Eddy wrote Science and Health with Key to the Scriptures to give to the world the practical system of Christian healing she discovered in the Bible. Read Science and Health »
The Bible is central to the study and practice of Christian Science and its system of healing. Read the Bible »

The Christian Science Journal
 advances the practice of Christian Scientists by providing a record of healing, metaphysical insight, and progress in the Church community.

The Christian Science Sentinel
 contains articles, editorials, and firsthand accounts of healing show how Christian Science can bring healing to any situation.

The Christian Science Monitor
is a news source that confronts today's complex and changing world with insight, intelligence, and integrity. It comes both in a digital daily edition delivered by email and as a weekly print edition that can be purchased at the Reading Room, or you can
subscribe here
.